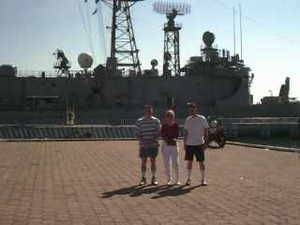 Sometimes good things happen to people who create web sites. In Jan, 1997 the following message popped up in my email: Hello Henry and Nadine. My name is Terry Hyland. I an Operations Specialist in the US Navy. In FEB the 7th to be exact the ship I'm on will be visiting Mazatlán. And while looking for information I came across your web page. I loved it and would like to share some of the valuable info I gained from it. I do intend on doing it but would like to know if you have a FTP site available so I can get some files I could print out on the ship. If not I'll print up the info manually. ... Terry went on to invite us to take a tour of his ship. We agreed with enthusiasm, and as you can see in the photo at the right, Terry, his buddy Dale, Nadine, and I (behind the camera) are about to board the USS Rentz, a guided missle frigate.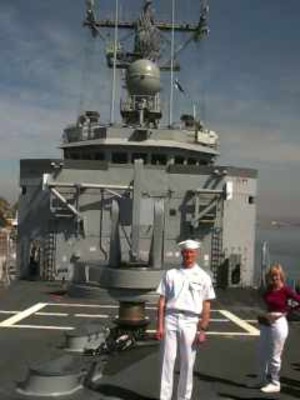 To prove we actually got on board, here is a shot of Nadine with a handsome young sailor near the bow of the ship. The funny looking contraption just above the sailors right shoulder is a missle launcher. The missles are stored below deck. The Rentz's main mission is anti submarine warfare, but it can also shoot missles at other surface ships in a pinch. Let me say here, that I would like to thank Terry and his friend Dale for accompanying us on this wonderful tour, and we wish both of them health and happiness in their future careers. Muchas Gracias.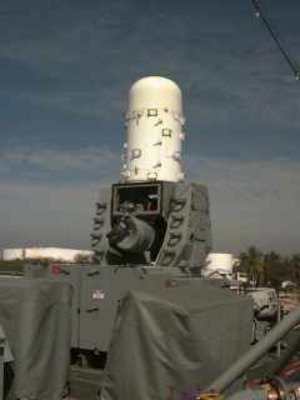 Here we have a picture of the Rentz's antimissle defense. It is called a CIWS which stands for Close In Weapons System. It shoots a square pattern of uranium bullets at a rate of 50 rounds per second into the path of an oncoming missle. To give you an idea of how fast that is, not even Nadine mother can can talk at that rate over a sustained period of more than 2 or 3 hours. (She's going to kill me if she ever reads that.) It has its own power supply, in case the main power of the ship is knocked out. Pretty impressive technology. I'm just glad its on our side.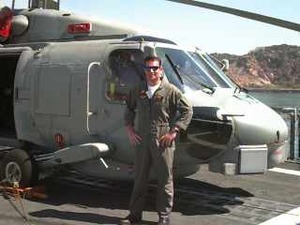 You are looking at an SH-60 Mark III Sea Hawk helicopter. Here is the real reason for this ship, namely to launch a helicopter to go out and look for submarines. The idea is this: If you think there is a sub in the area, you send your helicopter out to look for it. The helicopter and the ship communicate on a very narrow (physically) radio beam, so that none of the communication can be intercepted, and the enemy doesn't have any idea where the ship the helicopter is talking to is. The helicopter looks for the sub's general location using special microphone buoys, that it drops overboard. Once it has the general area, it tows a highly sensitive magnetometer, (a device that is good at finding large pieces of steel) behind itself for a more accurate fix. All of this information is fed back to the ship, which can respond accordingly. By the way, I should mention that Terry's ship, the USS STETHEM wasn't able to dock this day, so Terry arranged for us to visit the Rentz. His ship is the navy's newest Guided Missle Destroyer. If you would like to learn more about the Arleigh Burke class destroyer, Navy is only too happy to oblige.
Quote of the day:
We could learn a lot from crayons: some are sharp, some are pretty,some are dull, some have weird names, and all are different colors........ but they all have to learn to live in the same box.
Unknown
Sitemap
Go up to Things to Do Go up to General Information on Mazatlan Go up to Home Page of Nadine Loves Henry
Go back to A Trip to Deer Island Continue with Robert Hudson