All of the images below are "thumbnails."
To see the full size pictures, just click on them
A panoramic vista of the Mazatlán Beach as seen from Deer Island. It is worth the trip just to get this shot. At the very far left of the photo, you can just make out the Vidafel hotel, At the far right is where the old city is located. As you can see, the Mazatlán beaches are about as good as you get.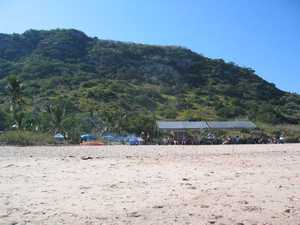 Here is a view of Deer Island standing on the beach of the island. There is a trail leading up to the top of the hill.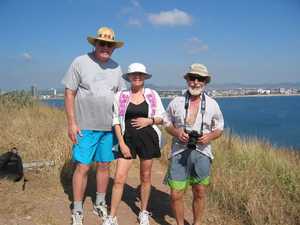 These intrepid
Friends of Mexico
made the journey to the top of hill. Nadine and I were busy snorkeling on the beach below. There are some fish to be seen, but I wouldn't call the wildlife
abundant.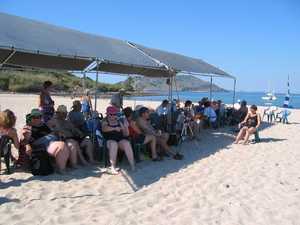 You can also lighten your tan by hanging out under the tent and chatting with some friends or chowing down hamburgers and hot dogs. Be sure to get an extra hot dog for the beach doggies that patiently wait for you to offer them a goodie.
Quote of the day:
If you lend someone $20, and never see that person again, it was probably worth it.
Unknown
Sitemap
Go up to Things to Do Go up to General Information on Mazatlan Go up to Home Page of Nadine Loves Henry
Continue with When the Navy comes to Town