Executive Summary
We are (mostly) well. We stayed home. Merry Christmas.
---
The long version
All of the images below are "thumbnails."
To see the full size pictures, just click on them
Dear Friends,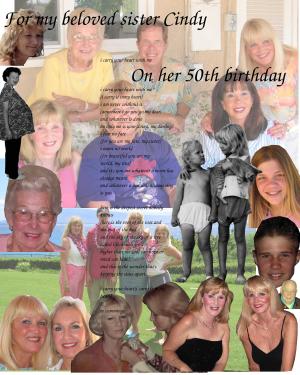 2006
began with another milestone,
the 50th birthday of Nadine's sister, Cindy.
We left for Simi Valley in January, to help her celebrate this unfortunate event. As extra punishment, we put together the collage you see here on the left, to remind her of birthdays past.
My favorite photo is the one where Nadine is holding a cat,
and has her arm around here little sister Cindy.
That was probably just before she goaded to cat to attack Cindy,
but that is another story.
We arrived in Simi just in time to overeat and over drink in an (overly) popular local Mexican Restaurant the .....? The next day, discovering that we were still capable of forming slightly coherent thoughts, we caravaned up to the wine country near Solvang, and stayed overnight in an Indian Casino. They may have lost the many Indian wars to the white man, but they are winning the peace now. After leaving our offering to the Great Slot Spirit, we returned back to Simi and then Mazatlan. Heavier in the flesh, but lighter in the pocketbook.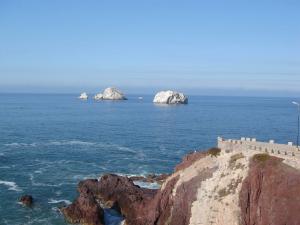 The following month, February, Mazatlan was a stopping point for one of Neil Bauman's
Geek Cruises.
It turned out my friend, and former fellow cruiser,
Randal Schwartz
was aboard on a Photoshop Cruise, so I offered to meet them at the dock and show them around Mazatlan. So off we went, around the malecon on up to the top of the El Cid hotel, with a stop at our house for some mango margaritas for fortifications.
The results of Randal's photo voyage are available online.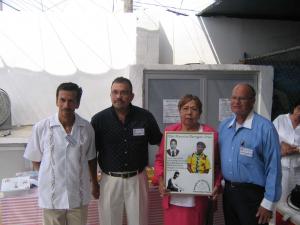 Well, one of the big parts of our lives in recent years has been the
Amigos de los Animales,
the local animal shelter that Wilson & Mary Ellen Godfrey, Judy Algara, and Nadine and I started about ten years ago. It has been a bumpy road during that time, culminating in our need to close down the shelter last spring, in order to make some much needed renovations and personnel changes. The abridged version is that there was a lot of drama, which started Nadine on a long downward health slide. In May, the shelter was finally re-opened, with a new team in place. The photo at the left is of the Barragan family, who have become good friends of ours during this long and arduous process. We are both taking a step back from
Amigos de los Animales
this season, and thus far things are going smoothly. Gracias Adios (Thank you, goodbye).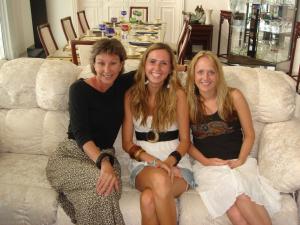 Another welcome guest was our friend and former real estate agent from Marin, Marty Wickenheiser, and her daughter Lindsey. Marty had quite an exciting time here. After passing out at her hotel, she was taken by a taxi to some no-name clinic and had her foot loosely wrapped in an ace bandage, and her credit card heavily charged. The next day she came over to our house for dinner, and as she started vomiting as Nadine was taking her home, we immediately took her to the emergency room at the Sharp hospital. She felt a lot better after getting IV fluids for an hour, and her blood test came back as positive for Typhoid. It seems someone at her hotel hadn't washed their hands properly while preparing the salad she had enjoyed a few days ago. This is not an uncommon occurrence, unfortunately, and there are two lessons to be learned from her tragic experience. One, is get a typhoid shot before you visit pretty much anyplace in Mexico, and two, never let a taxi take you to a "clinic" for your health care. Always insist on going to emergency room at Sharp Hospital. You will get the best care available in Mazatlan there. It took Marty about six months to completely recover from this experience, so please learn from her (blameless) mistake.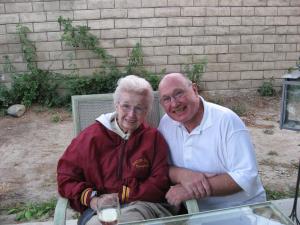 Well, May 23rd, 2006 was another banner day at our house. That was the day that Nadine's mom, Mary Callaway, and her posse visited us to celebrate her 80th birthday. They came, they saw, they partied. In fact, just the other day, I met my next door neighbor, Ken, at the tennis courts. He told me that he wasn't going to play very well that day, because he was exhausted from staying up late and drinking a little too much the night before, and he didn't even get a siesta. I told him, "Ken you remind me of my mother in law. She would get up early, stay up late, and never pass up a margarita. The only difference is that she did it for a week straight, and she is over 80." I don't think Ken has felt too sorry for himself since that conversation took place. Well, as usual, Nadine outdid herself, and put on a party with about fifty guests. The party featured a command performance by Adonis (more about him later), and Nadine reading the following out loud to the guests:
---
My Mother My Star

My Mom is one of those persons that when she walks into a room every one notices. When you meet my Mother and she shakes your hand, she touches your arm and gives you this big smile that seems to go straight to your heart. Everyone that meets my Mom goes away feeling happy that they had met her. When I was a little girl my friends would meet my Mom and would say to me "you are so lucky to have a Mother like that"! My Mom has always been a "BRIGHT STAR"! May your star your keep shinning brightly for many more years to come! Happy Birthday! I love you Mom with all my heart!
---
There weren't too many dry eyes in the house after that. That's my sweetie, how lucky I am to be with her.
---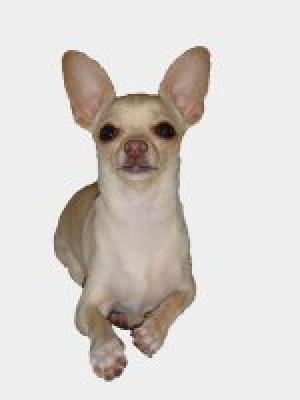 I mention Adonis above, and here he is. A couple of months before Mary's party, Nadine and I walked into La Jungla in the golden zone, and saw a pitiful little creature crying continuously. He was all skin and bones, and very unhappy. He had been
turned in
by his owners, as they were leaving they area, and was now for sale in the shop. Of course, Nadine wanted to take him home immediately, but I said whoa there, girl. He is a he, and we only have girl dogs. So we told Mina that she should contact us if no one buys him in the next week, and went home to take a siesta. After we woke up, we both looked at each other and said, "let's go get him." He has been a member of our family ever since, and has actually been one of our best and most loving dogs. He also has just the most spectacular ears, don't you think? In fitting with his masculine beauty, we named him Adonis, who also happens to be the lover of the
beautiful Aphrodite.
He is actually not a Chihuahua, but a Chihuahua retriever. He will run and fetch a ball until your arm gets tired of throwing it. We've never seen another Chihuahua like him.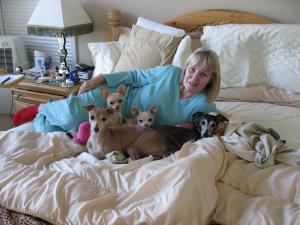 Well, after Mary's party, it was time to pack up and head back to Reno. Here's a photo of a typical Reno day, exciting isn't it? But to tell you the truth, each day as we get a day older, there just isn't any greater pleasure in life than being around the people (or dogs) you love. We got back to Reno pretty late this year, and because of the global warming that isn't happening, we were pretty much cooking in Mazatlan before we left. Nadine made me promise to come back to Reno earlier next year, which I reluctantly did. Of course, whether it is hot or cold outside, spending the day like this is always a pleasure.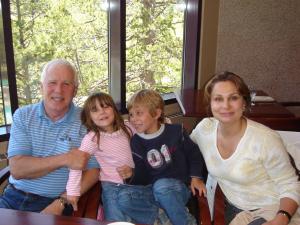 Next it was Henry's turn to get older. To commiserate with his misfortune are his best friend Alex, and his wife Anna, and their adorable kids, Ariana and Sammy. They just bought a house in Squaw Valley, so they are only an hour away from Reno when they are there for vacations. They took us out for a delicious lunch at ?????, where Sammy and I discussed the pros and cons of whether or not Pluto deserved the designation of a planet. I see so much of myself in Sammy, it is just amazing. Whenever it is time to get him birthday or Christmas present, I just think to myself, what would I have liked at that age, plus perhaps three to five years? Alex, you are a lucky man, I love you, and I'm looking forward to seeing more of you next summer.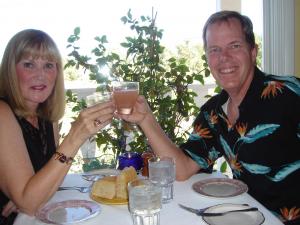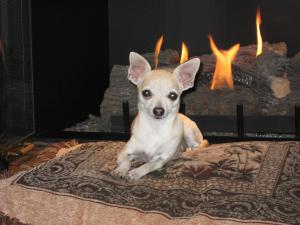 In order to convince Nadine to stay in Mazatlan a little longer this year, he promised her that when we returned to Reno we would celebrate his birthday and our anniversary at one of our favorite restaurants, the Fourth Street Bistro. So, here we are enjoying a Bellini while waiting for the scrumptious feast to arrive. On the other end of the excitement spectrum is our darling daughter, Aphrodite, making herself at home on a pillow in front of the fire. I'm sure she is thinking what we are thinking, that
life just doesn't get any better than this.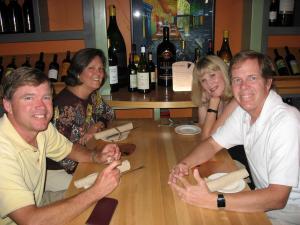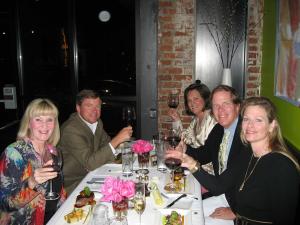 No summer would be complete without hanging out with our friends and neighbors, Mike and Barbara, and our adopted sister Nancy. Besides getting together weekly for game night, and doses of Vitamin C, we also spent an evening at a wonderful fondue restaurant, and after consuming numerous kilos of cheese, bread, and wine, we struggled to indulge some more in the chocolate fondue. It is a good thing I'm still on my every other day diet! On the right, Nancy treated us to a night in Paris at Lulu's restaurant in Reno. She even brought in her own fine champagne, place mats, and a little silver
crumb sweeper.
The only thing better than the food was the company.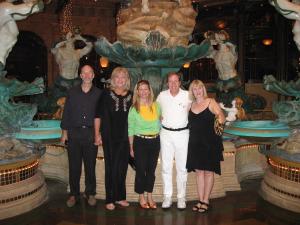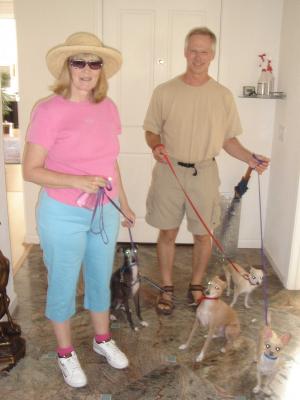 No summer in Reno would be complete without the traditional visits from our friends, Mark and Cheri on the left, and Bob on the right. Bob and I had a boy's weekend, complete with tennis, golf, bowling, and making lewd comments about Maria Sharapova. Nadine used her better judgement, and left us alone in the living room with our margaritas, and our sage tennis commentary. By the way, CBS executives, Bob and I are available and promise to be just as inappropriate if you ever want to get rid of that McEnroe fellow that is currently commenting about the US Open.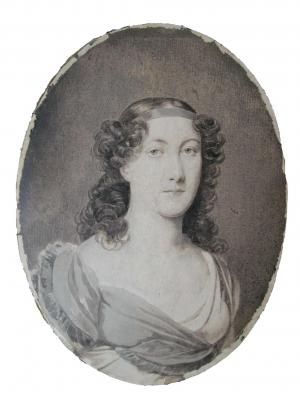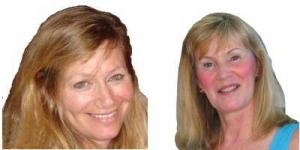 Nadine, and her friend Nancy, discovered a new love in their life this summer. A love of art, and beauty. I all started when Nadine bought a small painting at a neighborhood garage sale. She noticed an odd looking tag on the back, saying something about Carriera. Our friend Nancy looked at it, and said she thought this probably came from a museum. Thus Nadine and Nancy turned into
N2
,
Art Detectives
. They each spent many hours tracking all kinds of leads as to the identity and authenticity of this little painting, and right now it is being restored to its original splendor. So have they discovered a new treasure. Definitely! They have discovered the treasure of a passion for art and beauty. Both have so much enjoyed the process of researching and learning, that they have gone on to buying and researching other little treasures, including Baccarat crystal, Steuben glass, and other paintings by under appreciated artists. Will these treasures turn into dollars, stay tuned, we'll let you know. In the meantime, what really matters is that Nadine and Nancy are experience the thrill of discovery, and the joy of working together on something they both love and enjoy. It brings to mind the words of John Stuart Mill:
But I now thought that this end [happiness] was only to be attained by not making it the direct end. Those only are happy (I thought) who have their minds fixed on some object other than their own happiness....Aiming thus at something else, they find happiness along the way.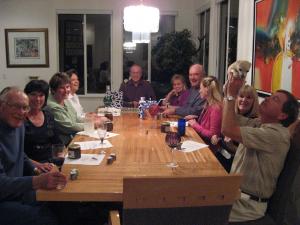 Summer just would be complete without our Everybody Wins Potluck Poker Party. This year the big winner was Howard. Who went home with lots of goodies. Of course lots of other things happened this summer in Reno. We went to several shows, including Balagan, which as excellent. Henry had Lasik surgery on his right eye, which went fine, we saw some cheetahs up close and personal at the Nevada Auto Museum, courtesy of Animal Ark, and of course we took our girls (and little boy Adonis) walkies as often as we could. The one less than pleasant adventure we had this summer was navigating the US medical system. Nadine has been having monthly throat infections. She started receiving treatment for them before we left Mazatlan, but they continued here in Reno. In Mazatlan, whenever we visited the doctor, they examined her pretty throughly, did a throat culture, and then prescribed an antibiotic that was specific for whatever they found. In Reno, we saw the doctor for perhaps five minutes, and all she did was hand us a prescription for an antibiotic and send us on our way. No tests, exams, cultures, nothing. We basically waited until returning to Mexico to try to resolve the problem, and are still in the process of doing so as I write this letter.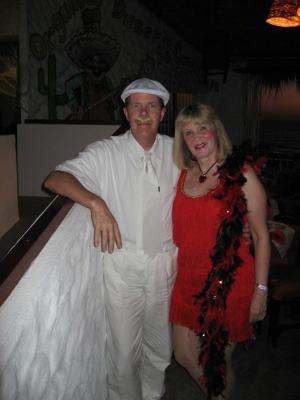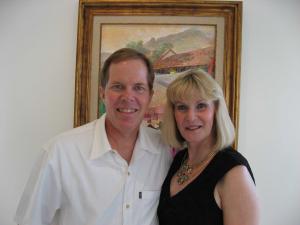 We arrived back in Mazatlan in mid October this year, and boy was it hot. It is now December, and anyone who doesn't think global warming is happening should be here now. It has cooled off some, but it is still unseasonably hot for this time of year. I hope it is only a fluke year, but I suspect this is the shape of things to come. Once we got back, we attended the Amigos de los Animales Halloween Party, dressing up as the not so great Gatsby, and his lovely wife, Daisy. I don't think Robert Redford has anything to worry about from me. The photo on the right was taken during our Amigos de los Animales Christmas party. If you feel like it, zoom in on Nadine's necklace, with she designed with the help of the ever talented jeweler, Gustavo. That was her Christmas present to herself.
So, our friends, thank you for reading this extremely long letter. We hope you enjoyed rather than endured it, and we wish you a happy, healthy, and prosperous 2007. Your friends,
Nadine & Henry
Quote of the day:
The one thing that unites all human beings, regardless of age, gender, religion, economic status or ethnic background, is that deep down inside, we ALL believe that we are above average drivers.
Dave Barry
Sitemap
Go up to Collection of Christmas Letters Go up to All about our Family Go up to Home Page of Nadine Loves Henry
Go back to Christmas Letter 2005 Continue with Christmas Letter 2007