All of the images below are "thumbnails."
To see the full size pictures, just click on them
One of the main goals of Amigos de los Animales is to educate the next generation to be kinder to the animals who allow us to share their planet. Various Amigos de los Animales and Conrehabit volunteers are going around to elementary schools and talking to the kids about wildlife, and the compassionate treatment of pets. What you see here is the result of one of those visits.
During these visits, we pass out coloring books to the kids, designed to educate them about animals. This year (2007) we would like to publish a new edition of the coloring book, and would like your help.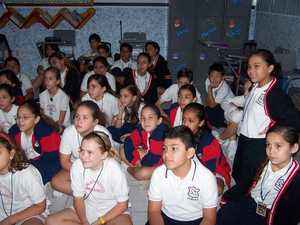 Like P. T. Barnum used to say, first you have to get their attention. I think this photos confirms that we managed to do just that.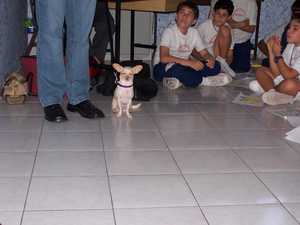 Our Adonis dog, preparing himself for the act to follow, by going into Yoda mode.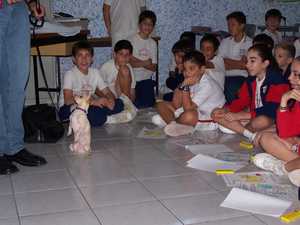 Sitting pretty is always a crowd pleaser.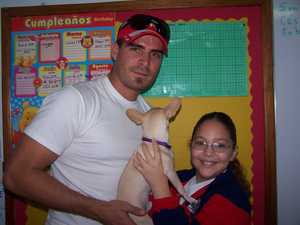 My grandmother used to always say: "Ein schoener ruecken kann auch entzueken", which rhymes in German, and translate (sarcastically) into "A nice back can also be charming." Adonis is demonstrating that he did not listen to my grandmother.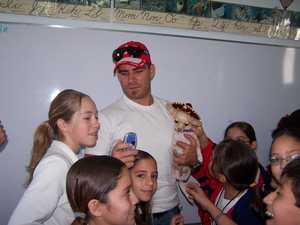 After the talk and the performance, all of the kids want to pet the doggie! Fortunately the only thing Adonis likes more than treats is attention.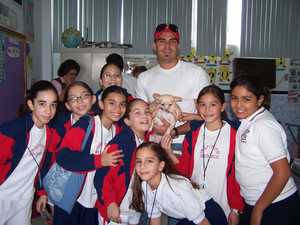 Adonis posing for the obligatory group photo.
Quote of the day:
If there are no dogs in Heaven, then when I die I want to go where they went.
Will Rogers
Sitemap
Go up to Service Organizations of Mazatlan Go up to General Information on Mazatlan Go up to Home Page of Nadine Loves Henry
Go back to A pancake breakfast with Santa Continue with Make Art, Make Money