So why do we live in Reno? Here are just a few of the reasons: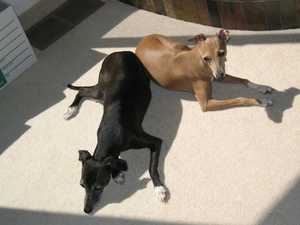 Our babies,
Belle
and
Venus
, love it here. Reno gets an average of 300 sunny days a year. After our long daily walkies, the babies love nothing more than to find a sunny spot to lie down in and snuggle each other.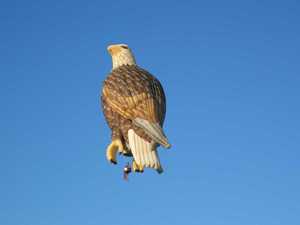 Every year Reno plays host to the Balloon Races. More than a hundred balloonists participate. You can walk amoung them in the early morning (dawn) as they inflate their balloons and prepare to launch. The race always starts out with this Eagle balloon.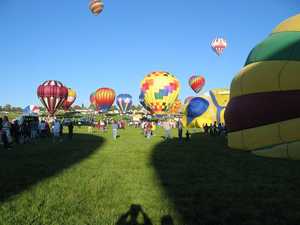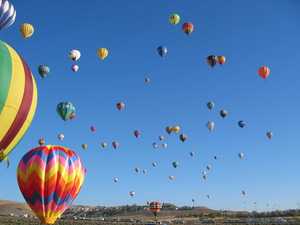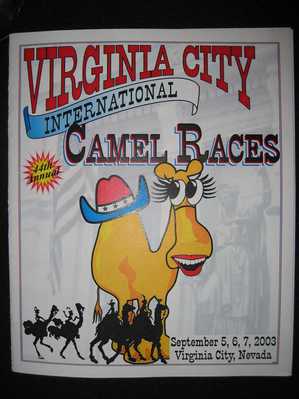 Another fun event, which takes places in Virginia City, are the annual camel races. Since I used to be a dedicated perl programmer, I could not afford to miss this event.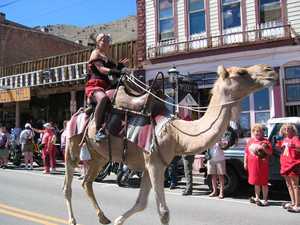 The festivities begin with a parade down main street. Some of the lucky camels are ridden by some of the local
working girls.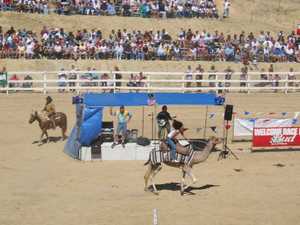 Next come the actual races, where you are a winner if you manage not to fall off of your camel. As fun as these races are, you should see the ostrich races, were three bird(brain) jockeys hand on for dear life while a crazed ostrich runs around wildly trying to figure out where to go.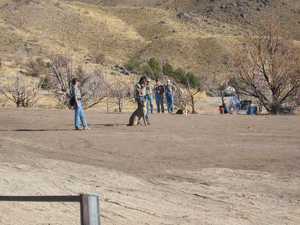 Since we like speed, especially in animals, we decided to attend a benefit for the local
Animal Ark organization,
when they let the public attend the cheetah races. Pictured here is Shaka, the male cheetah, who is plumb tuckered out after his 220 yard sprint. Besides these special events, there are always different shows going on in the various casinos. This summer (2003) we saw Mikhail Baryshnikov, a tribute to the Beatles by Rain, Spirit of the Dance, a Celtic festival by the Truckee River, a Chinese Acrobatic Circus, a Bar-B-Que rib cookoff, and antique cars during the Hot August Nights event. Each of these events were only a 5-10 minute drive away. In California, it took us 20 minutes just to get to the freeway, and then anywhere from 30 minutes to 1.5 hours to get into San Francisco, depending on traffic. We really like it here!
Quote of the day:
There are only two ways of telling the complete truth. Anonymously and posthumously.
Thomas Sowell
Sitemap
Go up to Our Reno Home Views Go up to Where we have lived Go up to All about our Family Go up to Home Page of Nadine Loves Henry
Go back to Our Walking Path