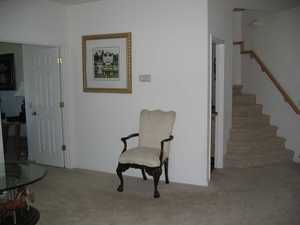 Now we proceed to the downstairs area. At the foot of the stairs Is a small sitting area.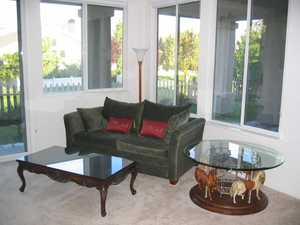 And across from the chair is a small living room. The round coffee table has a carosel base, and it does turn around.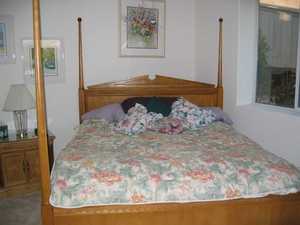 On the western side is the guest bedroom, with a very comfy king sized bed.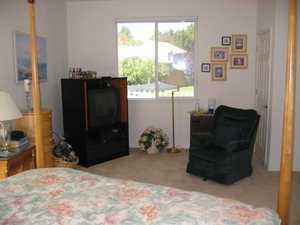 On the other side of the room is a small refrigerator and coffe station, along with a mini-bar on top of the tv stand.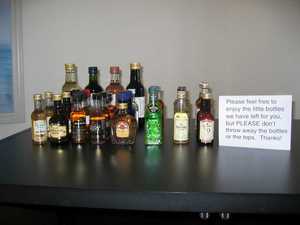 This is a close up of the no-honor honor bar.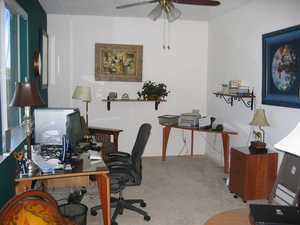 On the other side is Henry's downstairs office. This is where the real computers live.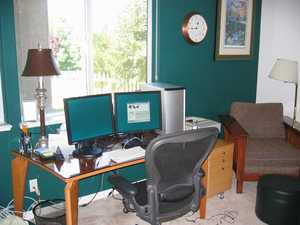 Here you can get a good view of the system where I am writing this text right now. The case is a Li-on low noise aluminum case. I've got two 19 inch LCD monitors connected to a Matrox 450 video board.
Powered by Disqus
Quote of the day:
After finding no qualified candidates for the position of principal, the school board is extremely pleased to announce the appointment of David Steele to the post.
Philip Streifer, Superintendent of Schools, Barrington Rhode Island.
Sitemap
Go up to Our Reno Home Views Go up to Where we have lived Go up to All about our Family Go up to Home Page of Nadine Loves Henry
Go back to The Garage Bedroom: Henry's Continue with Our Walking Path