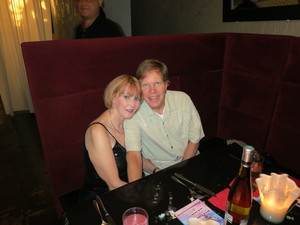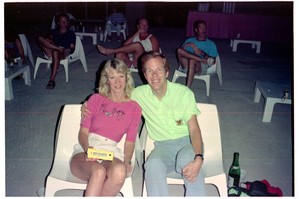 As you may know, Nadine and I met on May 20th, 1990, at Club Med Sonora Bay, and got married May 21st, 1991 in Montego Bay, Jamaica. This year marks our 21st and 22nd anniversary. I'll never forget that beautiful girl in the red top that I met the very first night I ever went on a vacation by myself. May 20th, 1990 was the luckiest day of my life, and May 21st 1991 was the happiest day of my life. I can't believe how quickly the years have flown by. During that time we've had many adventures. Two trips around the world, back when flying was still fun. We've lived in many places too, including Kentfield (Marin, CA), Lake Tahoe, Belvedere (Marin), Reno, Mazatlan, and now at
Lake Chapala.
When I checked my email this morning, I received the following message, which set the tone for the entire day.
Dearly Beloved, I wanted to write you this letter to convey my feelings to you about the last 22 years we have shared together. I am sure you are thinking why do I need to write to you when I can just tell you my feelings. Well, for many reasons for one at 58 I am forget some important things I want to say that need remembering. For another you have always said that if things are down in writing they mean more. Here is your anniversary gift letter. I have been thinking about what to say on and off last night and this morning. I stated by thinking about the first 10 years of our marriage. You use to tell everyone we were still on our honeymoon when they asked how long we had been married for? You know we both had a good laugh at that, but in both of our hearts we knew it was true. We did feel we were on our honeymoon. Most married couples are lucky if their marriage lasts 7 years. Let alone that they feel they have a 10 year honeymoon! We have always been so lucky to have found one another. ... Stay by my side my beloved I would never want anyone but you. I only have love in my heart for you always! You have a gift certificate for many hugs and kisses to be collected! Your loving and devoted wife,
Nadine
My dear sweet baboo, let me respond with:
Dear Moon of my Life, Thank you for the wonderful day we had today, and for the wonderful 22 years we've had together. I wish it were possible to invent a time machine, so we could do it again, but I'm afraid it violates the chronology protection conjecture. So I'll just have to love and cherish you more during the next 22 years, and after we wake up from our long slumber. You have made my life richer, and more worth living. You have always been on my side, and looking out for me. I love your kindness, willing spirit, gentle nature, and you've still very easy on the eyes. Your Sun and Stars,
Henry
We celebrated this special occasion with a wonderful dinner at Number Four in Ajijic, where we indulged in one of the best Red Snapper meals of our life, thank to chef
Glenroy Anderson.
Also, we arranged to have Kim hire a singer for us to play
It had to be You
, which I took the liberty of recording for your (and our) viewing pleasure. It was truly a night to remember.
Should you want to download the full hi-res video,
is available here,
but be warned it is over 330Mb.
Quote of the day:
If you look like your passport photo, you're too ill to travel
will Kommen
Sitemap
Go up to All about our Family Go up to Home Page of Nadine Loves Henry
Go back to Collection of Christmas Letters Continue with Nadine's 40th High School Reunion