As you walk in the front door and turn around, you can see the stained glass that we had made for the entry way. The scene is hummingbirds, and a local artist created this window.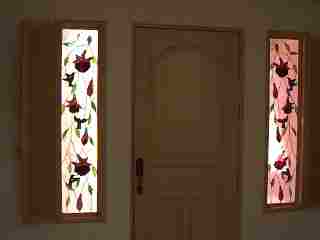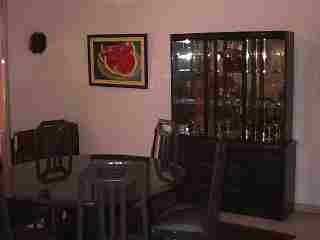 The dining room has a round table with six chairs, and a matching china cabinet. We bought almost all of the furniture in Guadalajara and had it shipped to Mazatlán. We went there with our friends and neighbors, Pat & Win Smith, for a weekend shopping spree, and returned with a fully furnished house.
The living room has a large curved couch, where the two end seats fold out with footstools. The entertainment center holds the 32" TV screen, as well as the satellite receiver and VCR. The coffee table is brass and glass, as are the two end tables.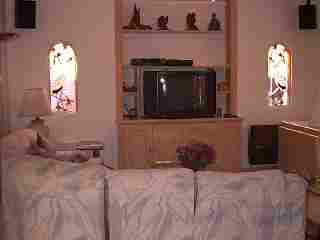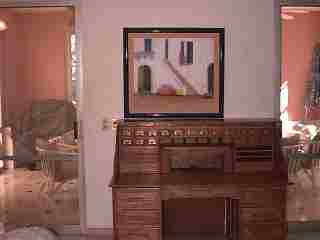 Here is the back of the living room, with the patio just beyound. The roll top desk in the picture is no longer there. The patio has two large round patio tables with six chairs each. There is also a Barbecue on the patio, which you may use if you desire.
The kitchen is separated from the dining room by a nice long bar. There are four bar stools on the dining room side of the bar. The kitchen has a large side by side refrigerator. There is also a microwave oven, a regular stove gas range, and lots of counter and shelf space. Behind the kitchen is the laundry room, which has a washer and a gas dryer. There is also a half bathroom next to the laundry room for the maid's use.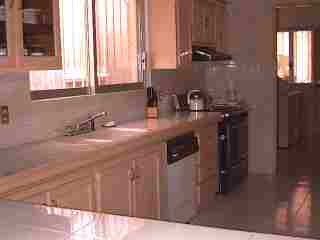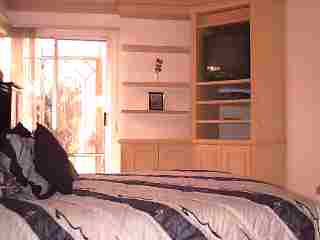 The master bedroom has a large king sized bed, and an entertainment center with 27" TV and VCR. Adjoining the master bedroom is a closet area, a bathroom with dual sinks and a two person black jacuzzi tub, and a toilet area with bidet.
---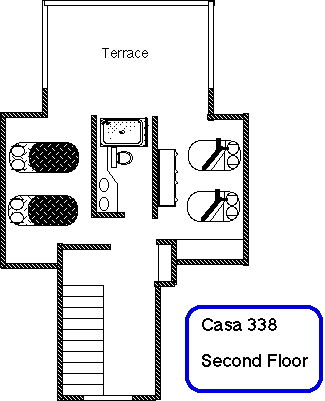 The floorplan for the second floor of Casa 338. The upstairs patio gets lots or morning sun, and has lounge chairs that are ideal for sunbathing. The two bedrooms share the upstairs bathroom, which features dual marble sinks and a black and white and gold tiled shower. There is also a large linen closet to the right at the top of the stairs. Of course, all of the sheets and towels are supplied.
The upstairs "boys" bedroom has two twin beds and a chest of drawers, and a "geometric" motif. There is a ceiling fan, a built in closet, and built in bookshelves.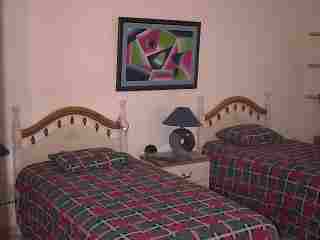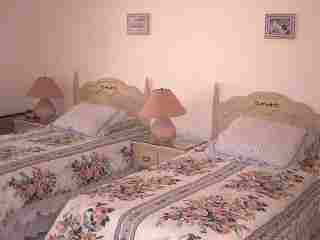 The upstairs "girls" bedroom also has twin beds and a small makeup table, and a "soft" motif. In addition to the ceiling fans, both upstairs bedrooms also have their own air conditioners.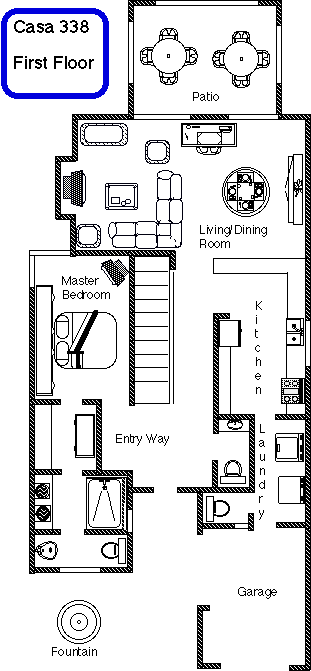 To contact Brian or Linda please send them a message at:
morgprop@aol.com
Quote of the day:
A seminar on time travel will be held two weeks ago.
Anonymous
Sitemap
Go up to Places to Stay Go up to General Information on Mazatlan Go up to Home Page of Nadine Loves Henry
Go back to Terry and Sharon's Marina Mansion