All of the images below are "thumbnails."
To see the full size pictures, just click on them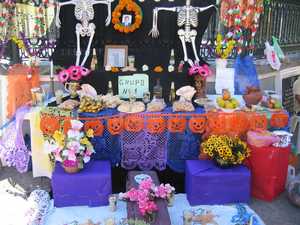 Here is another view of the alter that was set up on the Plaza Machado. The offerings of food are for the dearly departed one.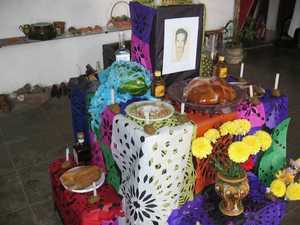 Down the street in a small jewelry shop, this alter was set up to commemorate the father of the shop's owner.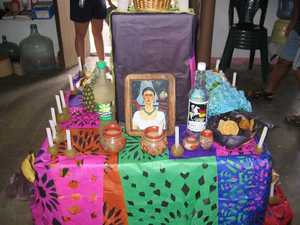 Here is the alter above from the other direction.
Quote of the day:
The sole purpose of a child's middle name is so he can tell when he's really in trouble.
Unknown
Sitemap
Go up to Special Events in Mazatlan Go up to General Information on Mazatlan Go up to Home Page of Nadine Loves Henry
Go back to Expo Canacintra in Mazatlan Continue with Christmas Lights Tour