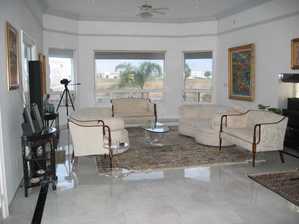 All our lives Nadine and I lived in small houses. Growing up i lived in army quarters, and when I met Nadine she lived in a one bedroom apartment in North Hollywood. The first house we built here in Mazatlan was also on the small side, as at the time we were only planning on staying here about 3 months a year. Once we realized we would probably be here 8-9 months a year, we decided to go for bigger digs. Well, we bought two adjacent lots, and felt obligated to use up most of the area. So we went a little overboard, and this room is one of the results. We call it the game room, since this is where we usually host bridge or poker games. I'll take you around the room counterclockwise.
What game room would be complete without a bar? The photos along the top are interesting, at least to us. On the far left is my parents wedding photo. They were married in Heidelberg, Germany back in 1952. One over from the far right is our wedding photo. We were married in Jamaica in May of 1991. The other interesting photo is below. See the one of the
little girl
with the big bow in her hair. That was taken in 1920, and is a picture of my grandmother.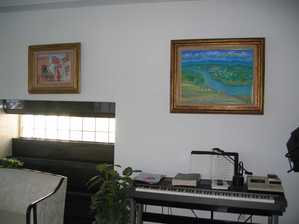 Next we have a Roland electric piano, which has a very nice sound. I took piano lessons when I was in high school, but the highest level I achieved was only making about three or four mistakes while playing Bach's First Invention. These days we use it occasionally to pick out the melody of some tune that Nadine wants to sing. She really has a beautiful voice.
The painting above the piano is a Pescina, and the one to the left is a Navarrete. Underneath the Navarrete, is a granite fountain. It only took us about 7 years to mess with it before we didn't have the water dripping on the floor below.
This is another Navarrete. It is hard to tell from the photo, but the painting is quite large, 98cm x 118cm. It is an impressionistic view of a carnival in San Miguel de Allende.
Now we've arrived at the back window. From here you can see the marina lagoon, and our swimming pool. You can just make out the El Cid hotel peeking through the palm tree. We call the house across the lagoon the Taj Majahl.
Turning the corner we have another Navarrete to the left of the telescope, and the statue below it is another Gutierrez. At the far left, just in the photo, is another
Alin Aguilar
painting, and just above our
Bang-Olufsen
stereo.
Here we see the game room from the other end. Like I said, we got a little carried away.
Quote of the day:
Save the whales. Collect the whole set
Alan Cundall
Sitemap
Go up to Our Little House in the Marina Go up to Where we have lived Go up to All about our Family Go up to Home Page of Nadine Loves Henry
Go back to The Living Room Continue with Henry's Office and Guest Room