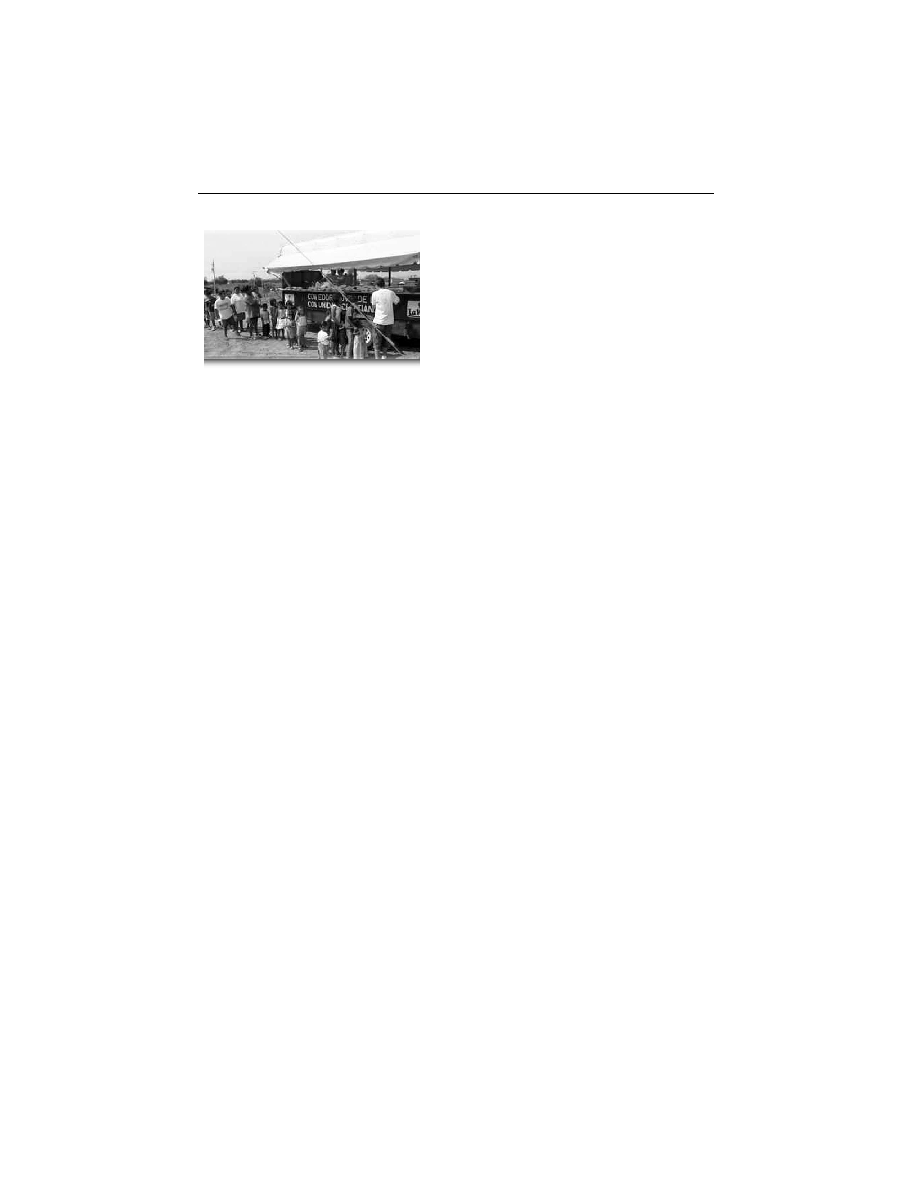 Information about the Vineyard (La
Viña) Church in Mazatlán: The Vineyard
Church is a mission with headquarters in
Illinois. Regular church services include one
in English and the other in Spanish, every
Sunday. All monies collected during the
services go directly to church projects in the
poorer sections of Mazatlán. The mission's
vision came in June 2001 with twelve new
works in Mazatlán. Now three years later, the Vineyard of Mazatlán is almost
halfway there. Six Vineyard churches--either complete or under construc-
tion--are now spread throughout Mazatlán. These all double as feeding cen-
ters for needy children, filling a total of up to one thousand hungry tummies
weekly. That is just one of their many functions. The newest building opened
in Francisco Moderos in 2003.
These multi-purpose buildings also serve as community centers, dental,
and medical clinics. Twice a month, local women from Valles del Ejido and
Urias gather in the respective churches to take hair-cutting and sewing classes.
Eventually, they will be able to start their own businesses from the skills they
learn there.
Another way in which the Vineyard serves the community is through its
various clinics. The dental clinic in Valles del Ejido is open two days a week,
providing dental care at just twenty pesos per visit. There is no charge for those
who cannot pay. In Urias, just down the road from the city dump, the dentist,
Rebeca, sees patients Monday through Friday. Children who are age twelve and
under are free. And finally, in Renato Vega, volunteer doctors provide medical
consultations once a week for people who otherwise would not be able to
afford it.
Since many residents of the poor Colonias eat only sporadically, the
Vineyard provides them with a hot meal as often as possible. In one week, they
might serve over three thousand meals out of their mobile kitchen. This giant,
red trailer with its bright yellow roof is hard to miss. Complete with two com-
mercial grills, a range, and an industrial-sized sink, the operation turns five
hundred meals into a mere hour and one half project.
Mission At Work
M a z a t l a n I S P a r a d i s e