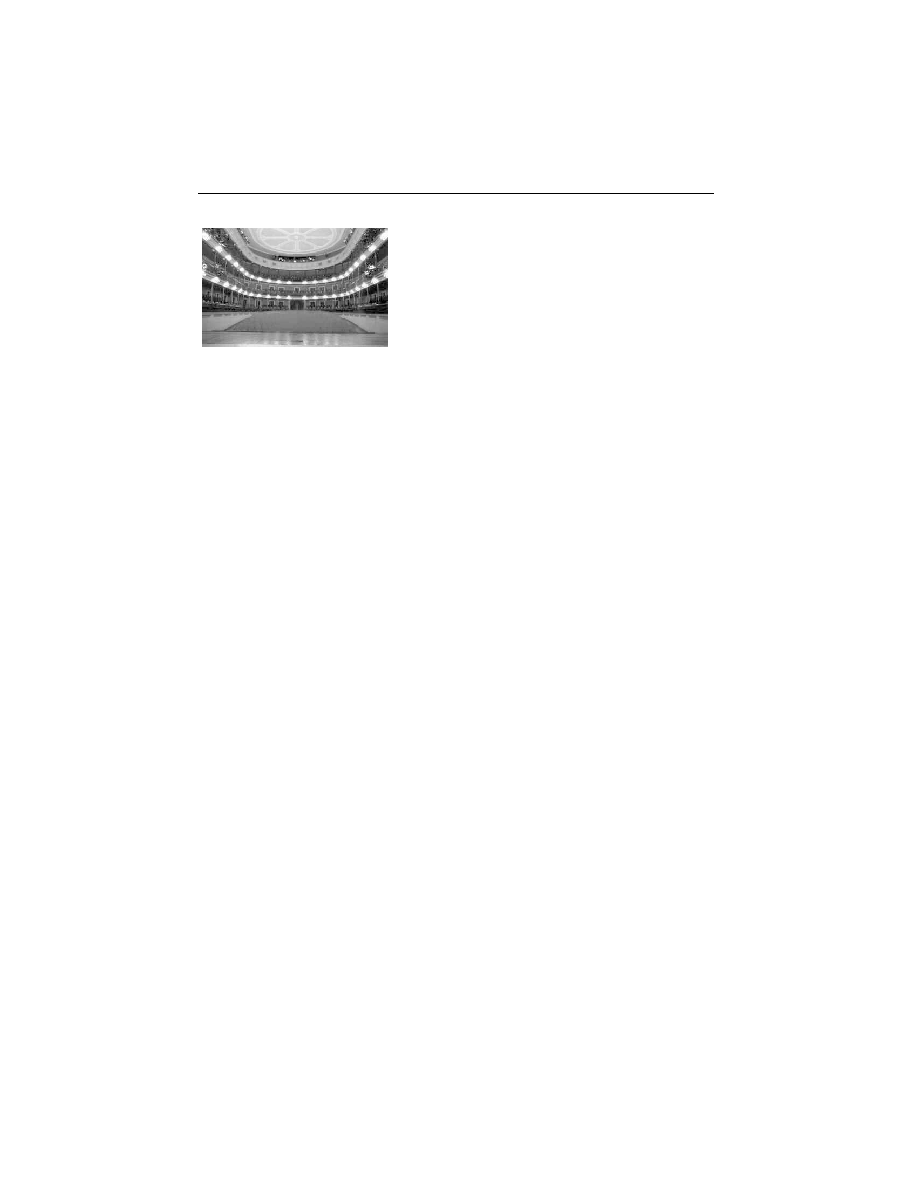 Angela Peralta, named "The Mexican
Nightingale," was one of the world's most
famous divas. She was supposed to perform at
Mazatlán's relatively new opera house in 1883.
Huge crowds met her on her arrival and she was
so overcome by them that she performed from
the balcony of her hotel. Before she could do
her theater performance, she fell ill and died of
yellow fever at the age of 38. The theater was named after her in 1943.
For a period, the theater fell on hard times around the time of World War
I. It was used for Carnaval balls and boxing matches, and later a movie theater.
In 1964, due to deterioration, it was closed to performances. Just as plans were
in the works for restoration, "Hurricane Olivia," in 1973, blew the plans away
and the building to ruins. By 1986, civic- and arts-minded people got togeth-
er and began the restoration project that has restored the theater to its present
state.
Movies: There are several modern movie complexes in Mazatlán. The good
news is that they have American movies that are in English with Spanish sub-
titles. The other good news is that a ticket costs about three bucks--and on
Wednesdays they have a $2 U.S. per ticket special. They also have matinee
prices before 4:00 p.m. The cost of refreshments is not inflated like in the
States. Soda and popcorn go for $2 U.S. each.
Theater complex Gaviotas is located conveniently on Camarón Sábalo in
the Golden Zone, across the street from Burger King. While shopping at the
Gran Plaza, near Sam's Club, stop and see a movie in the mall. Theaters, named
multicinemas are available in the downtown area at the Plaza Las Americas--
next to Red 2000. The Theater is about three blocks from the Plaza. Newer the-
aters opened last year near Soriana's as well as between Gigante and Office
Depot, close to the Golden Zone. For you non-shopping guys, it gives you an
opportunity to catch a flick while your spouse is shopping. For you shoppers,
your spouse can save some money at the movies while you spend said savings
in the stores.
Sightseeing tours
There are numerous organized tours of the city of Mazatlán and the sur-
rounding areas. Some are best enjoyed with a tour driver in a van, while oth-
ers must be taken in a boat or other vehicle through a tour company. Most of
these destinations can be visited by public transportation if you are adventur-
ous and budget conscience.
Angela Peralta Theater
M a z a t l a n I S P a r a d i s e