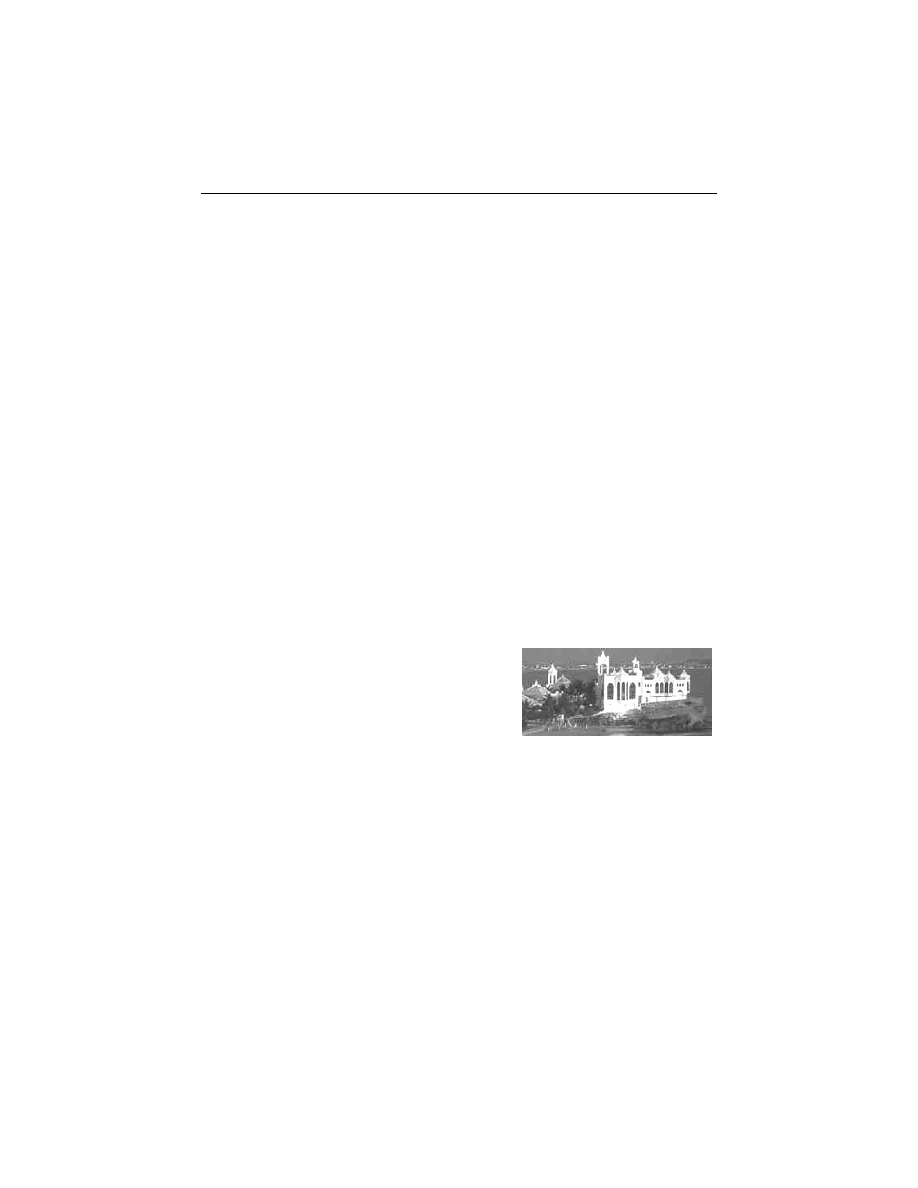 Fiestas
Fiesta Mexicana: Located just to the right at the entrance to the Playa
Mazatlán Hotel, the Fiesta Mexicana is the most famous in Mazatlán. A nice
buffet and unlimited margaritas precede an outstanding show with mariachis
and dancers from various regions of Mexico. Don't miss this fabulous show
that includes audience participation. It is performed at 7 p.m. on Tuesday and
Saturday nights for about $24 U.S. For information call 989-0555.
El Spectaculare: A buffet and show similar to the Fiesta Mexicana in a gor-
geous outdoor theater. It is located on Camarón Sábalo, north of Holiday Inn.
The food and show is um...spectacular.
El Cid Mega Resorts: Their fiesta is a Carnaval theme and is on Wednesday
nights. There is plenty of food and drinks combined with the show making it
well worth the $25 U.S. El Cid is located just north of the Inn at Mazatlán.
Late Night Activities
Bora Bora: It is located on Camarón Sábalo in the Golden Zone, in the
Valentino's complex. This is a jungle theme nightspot that also features beach
volleyball.
Joe's Oyster Bar: On the beach behind the Los Sábalos Hotel in the heart of
the Golden Zone, Joe's is another party and meat market for the 18-40ish
crowd.
Cowboy: Tourists stagger across the street
from the Los Sábalos Hotel to listen to country
western music and play pool.
Mr. Tony's: The music is primarily, 60s and
70s, oldies, even though most of the clientele
were not born then. Located on the corner of
Camarón Sábalo and Gaviotas--just mosying,
distance south of Cowboy.
Valentino's: Mazatlán's favorite disco. It is the castle in the Fiesta Land com-
plex. No tennis shoes or shorts allowed. There is a cover charge and drinks run
$3-$5 U.S. each. Thursday and Sunday women drink free from 9-11 p.m. There
is a classic strobe-lit dance floor, but it has several hideaways including a
karaoke bar and romantic music nook.
Angela Peralta Theater: Presents just about everything from traditional
deer dances to contemporary ballet and from John Lennon's music to a Mozart
trio. There are films, lectures, plays, and readings as well. Sitting in the old
restored theater is alone worth the $6-$10 U.S. price of admission. There are
two great stories that are of interest about the theater.
Valentino's
Char les A. Hall