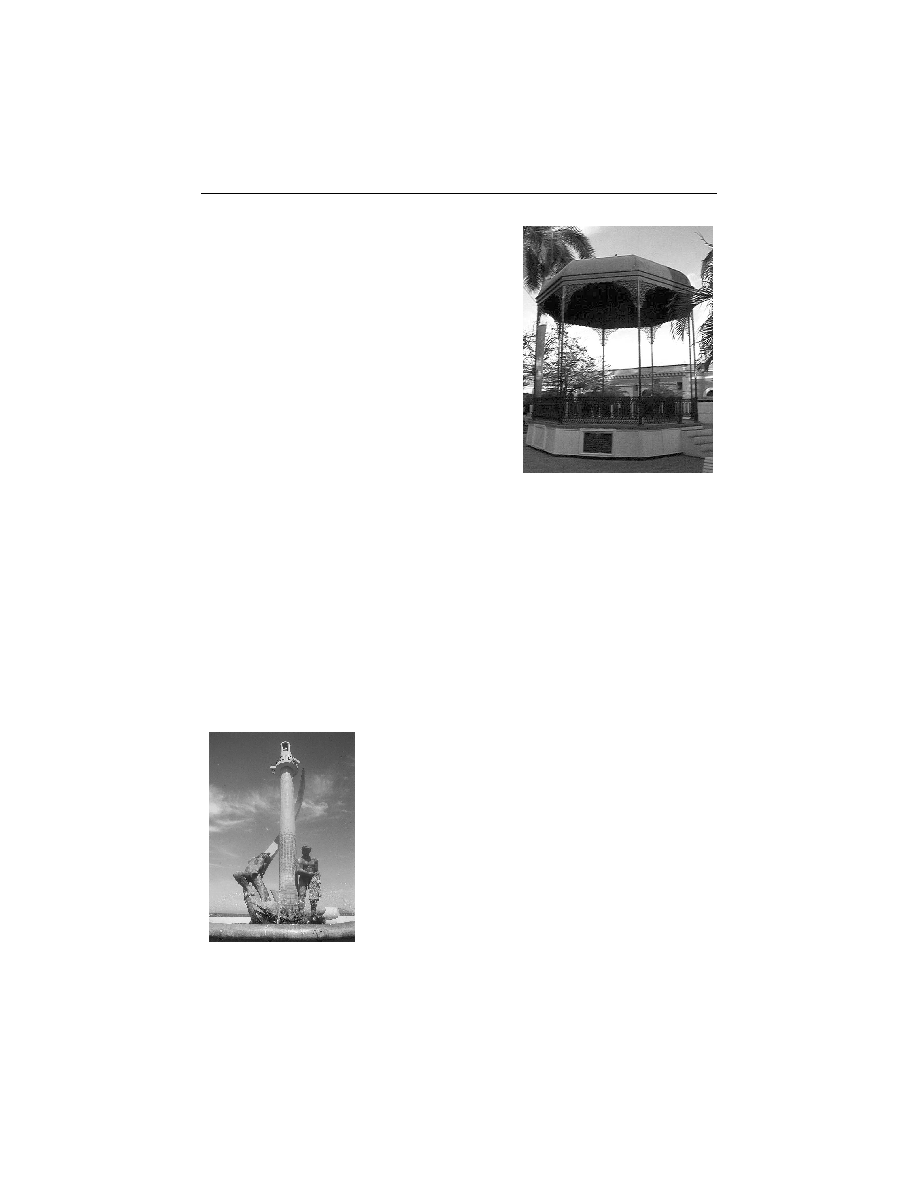 From the east side of the Plaza turn right.
On your left will be the famous Angela Peralta
Theater. Go in for a look at its splendor. They
ask for a $1 U.S. donation to enter. There is usu-
ally a kiosk in front advertising coming attrac-
tions. The old traditional El Tunel Restaurant
faces the entrance, along with a coffee/pastry
shop displaying yummy desserts.
Take Calle Sixto Osuna from the Plazuela
Machado, toward the ocean a few blocks. At
Calle Sixto Osuna 76, enter the Museo de
Arqueologia. The museum contains excellent
exhibits of the history and culture of Sinaloa.
On display are petroglyphs, figurines of animals
and humans, and the ancient polychrome pot-
tery of Sinaloa. Entrance fee is about $1 U.S. The museum is open Tuesday-
Sunday, 10 a.m.-1 p.m. and 4-7 p.m.
Next-door is the Art & Web Internet Café. Contact your friends at home for
about $1 U.S. per hour. They have friendly, English-speaking staff.
The Mazatlán Reading Library is next door heading west. Stop and do a lit-
tle browsing, and even drop a small donation. More information about the
library can be found later in this chapter.
Across the street, stop and see the Casa de la Cultura. You may see an art
exhibit, a musical or dramatic performance or even a literary reading.
Walk west one-half block and you will find Olas Altas, the original tourist
area of Mazatlán. Stop at one of the sidewalk cafes and have a soft
drink or beer, enjoy the soft sea breeze, and soak up
the flavor of old Mazatlán. You will always find a
group of Gringo residents at Puerto Viejo Café (corner
of Sixto Osuna & Olas Altas) in late afternoon, waiting
for the sunset. Stop and say hello. Since the tourist
resort area is miles away, I suggest you hail a pulmonia
for the refreshing ride along the Malecón to the
Golden Zone. Or you can wait for the Sábalo Centro
bus back to the tourist zone.
If you still have time and strength after your down-
town tour, you can head north for a stroll along the
Malecón--but I suggest you save this trip for another
day.
Fisherman's Monument
Photo by Tom Tolman
Plazuela Machado
Char les A. Hall