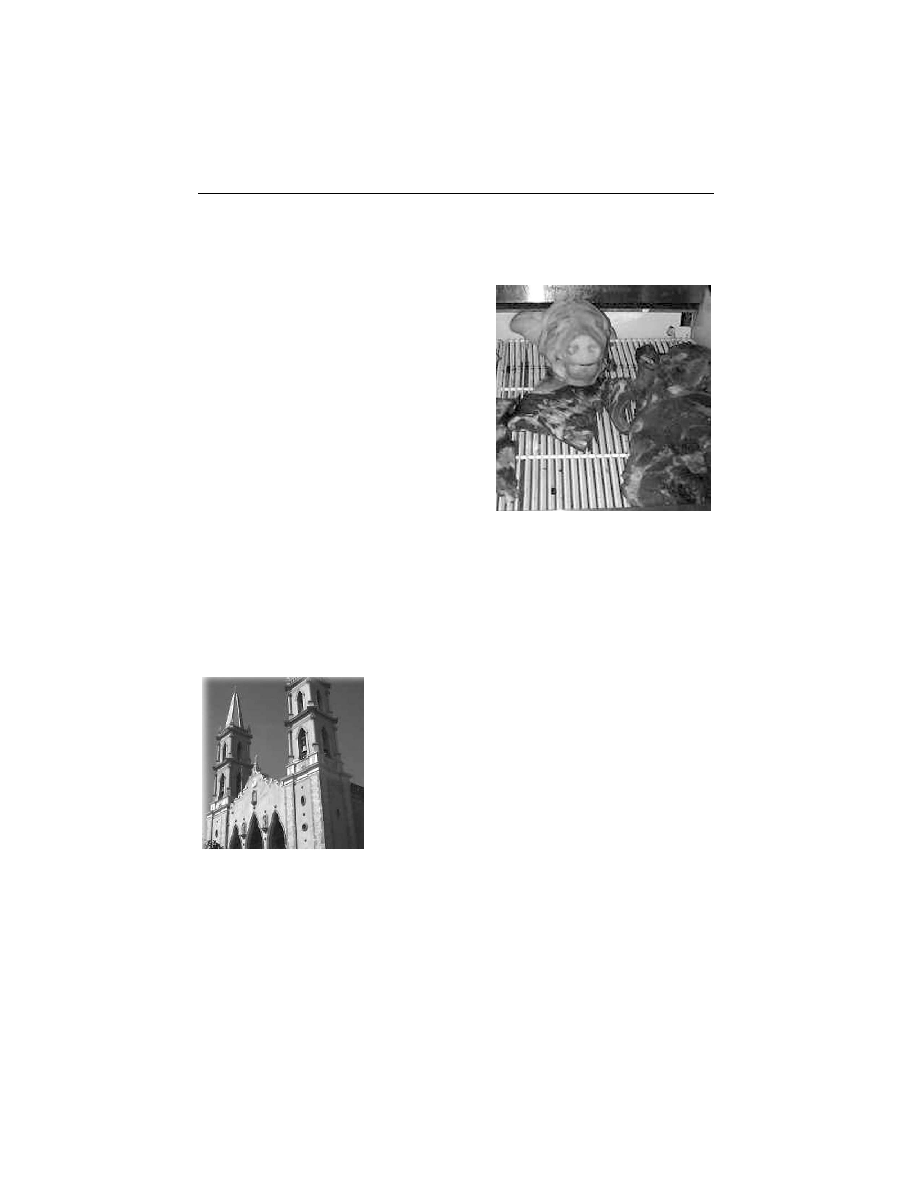 Afterward, check out the fishing fleets in the harbor. You may be lucky and see
a big billfish hanging with a proud angler having his picture taken.
A walk in the downtown area: Take the Sábalo Centro bus from the tourist
zone heading toward downtown and get off
at the Central Market on the Serdan side.
Take in the sights and smells of the Central
Market. Mazatlecos follow the time-hon-
ored tradition of shopping daily. You can
find everything in the market from "tourist
items," to meat and vegetables. As you shop,
be sure to negotiate prices with the vendors.
There are restrooms on the second floor for
a small fee.
Exit on the opposite side of the one-
block square market. The street is called B.
Juarez. As you exit, turn left (heading south),
and walk past Panama Bakery/Restaurant
and Fabricas de Francia. Cross the street and enter the famous Catedral Basilica
de la Purisima Concepcion, which is the centerpiece of Mazatlán. Built on a
filled lagoon, the Cathedral was started by the Bishop Pedro y Pardave in 1856.
Completion was delayed due to many circumstances until 1899. In 1937, it was
elevated to the status of a basilica. Its beauty and grandeur are breathtaking.
The Cathedral is open from 6 a.m.-1 p.m. and 4-8 p.m. daily.
When you exit the front of the Cathedral, cross
the street to the Central Plaza de la Republica, where
there is a beautiful wrought-iron bandstand. If you
have time, enjoy a shoeshine and relax on a park
bench for people watching.
On the west side of the plaza is the Palacio
Municipal (city hall) where the mayor, on the eve of
Independence Day on September 16, provides
words of patriotism to a celebrating crowd. The city
hall is also where property taxes are paid.
Continue south down B. Juarez, turn right at
Constitucion, and go one block to Plazuela Machado. It
is a beautiful park that has a gazebo stage. Restaurants that have tasty Mexican
dishes surround the plaza. Stop at one of the cafés where you can rest, enjoy your
lunch and people watch.
Catedral Basilica de
la Purisima
Meat at Central Market
M a z a t l a n I S P a r a d i s e