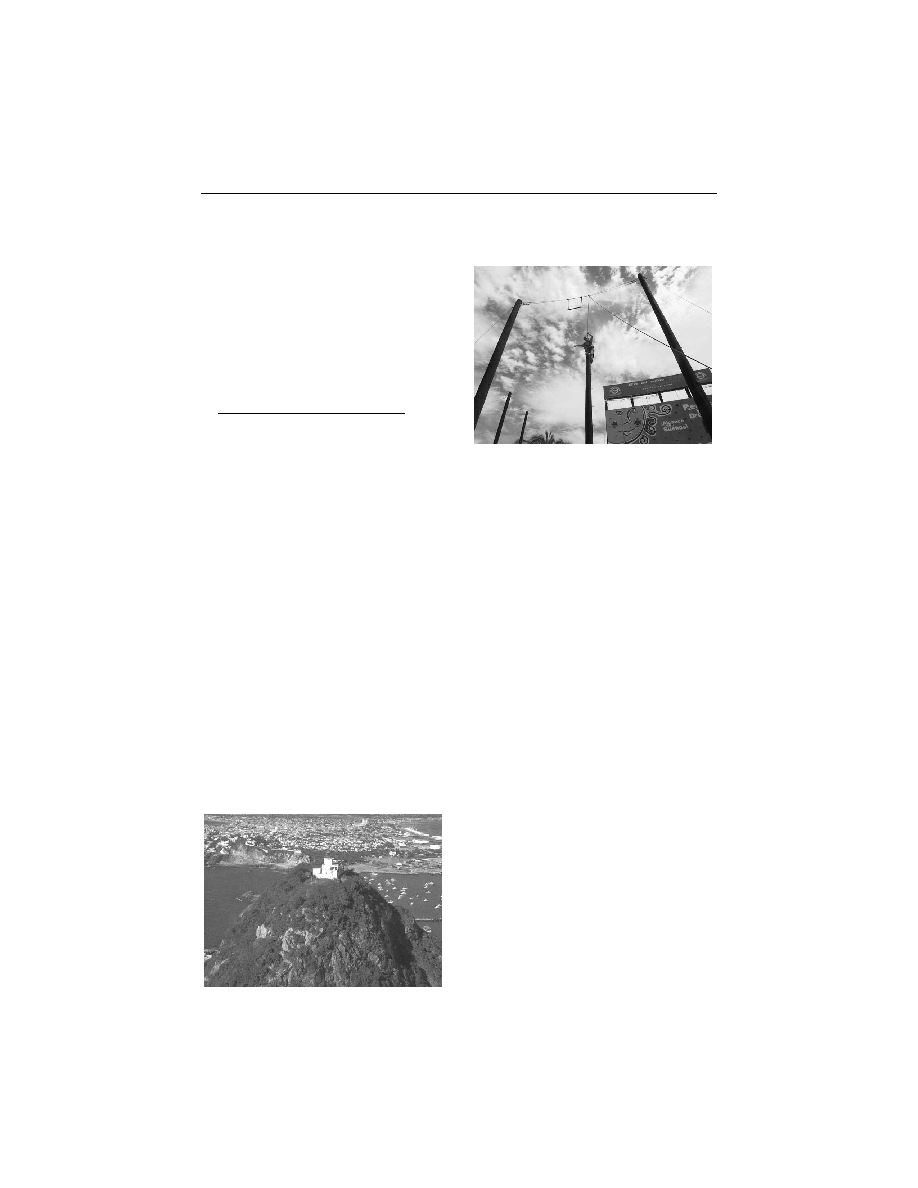 Moped or scooters: How about scooting around town? There are several
places in the tourist zone to rent scooters. A valid driver's license is usually
needed. Price is $8 U.S. per hour for a
single rider and $12 U.S. per hour for
two on a scooter, and the company pro-
vides the helmet and gasoline. Scooters-
Mania of Mazatlán will deliver them to
your hotel at no extra cost. Call 983-
2196. You can make advance reservation
at www.mazinfo.com/scooters.
Climbing wall and ropes: Do you and
others in your office feel you are at the
end of your rope? Talk your boss into
taking the whole team to Mazatlán for a
personal growth experience. You will not only learn more about your co-work-
ers, but also about yourself as you go through the rope and climbing course. I
went through similar courses as a U.S. infantry officer, and it really scared the
hell out of me. After I got past the initial fright, I really gained a lot of confi-
dence. It is available through El Cid Mega Resorts.
Jogging: I jog about 17 and one-half miles every week, regardless of where
I am. Mazatlán has some great places to jog. I like to run during the early
morning hours, between 6:30 and 7:30 a.m., from my home in El Dorado,
south to Valentino's and along the Malecón. There is less traffic at that time and
just as importantly, it is the coolest part of the day. Beach jogging is also good,
but I would check the Pacific Pearl for the tide tables and run when the tide is
lowest. The beach is flatter and harder at that time.
Hiking: Walking is a favorite past time in Mazatlán, whether it is along the
beach, along the Malecón, looking at houses in the El Cid or El Dorado neighbor-
hoods, or window shopping. Be warned that Mexico is not the litigious society of
the U.S. If you step in a hole in front of a shop, don't bother calling your lawyer.
El Faro Lighthouse: For a beautiful
view of the city, don your hiking shoes
and put a big bottle of water in your
pack and take a taxi to the base of
Creston Hill (Cerro del Creston). It takes
between 30-45 minutes to hike to the
famous El Faro lighthouse--depending
on your age and physical conditioning.
But the spectacular view from 500 feet
above sea level is well worth it.
A nice walk
Wall climbing and ropes
Char les A. Hall