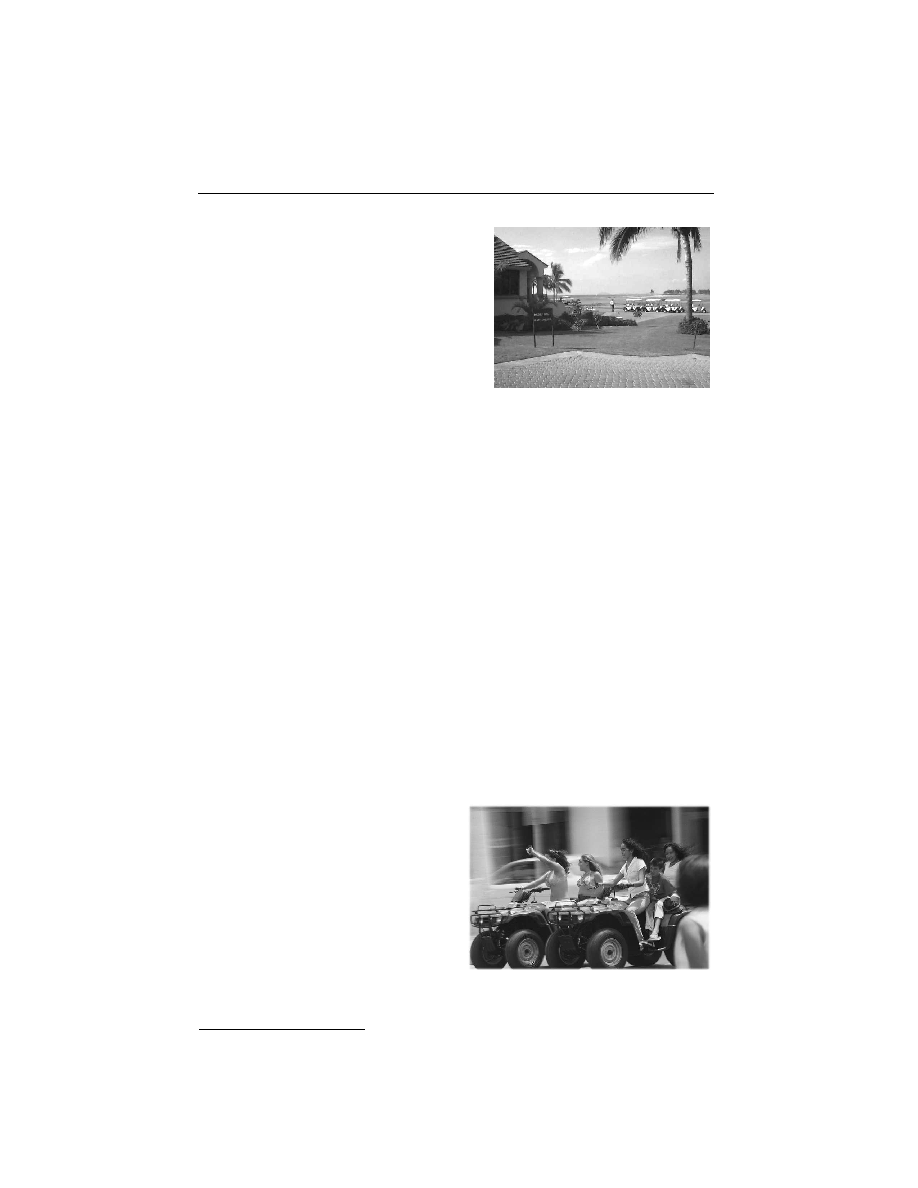 Other activities
Golfing: If golfing is your game, Mazatlán
has two of the best courses around. El Cid
Mega resorts has a 27-hole golf course in the
Golden Zone. The great Lee Trevino
designed part of the course. Estrella del Mar
Golf Course opened on Stone Island in 1997.
Robert Trent Jones designed the par 72
course; green fees are about $90 U.S. with
cart. There are no caddies. A nine-hole pub-
lic course, Club Campestre, ($30 U.S.) is located near the airport.
Tennis: The warm winter weather is ideal for playing tennis and courts are
available all over Mazatlán. Some courts are lighted and the surfaces are clay,
asphalt and concrete. Courts may be found at El Cid, The Faro, Holiday Inn,
Costa de Oro, Los Sabalos, and Gaviotas Tennis Club.
Horseback riding: If you like to horse around, there are horses aplenty. But
first a caution. The officials on the beaches in the tourist zones do not sanction
horses. That is not to say horses are not available. Sometimes in late afternoon,
young Mexican men bring horses to the beach to rent to tourists.
Ever hear of bilingual horses? I don't know how to say "giddy-up" in Spanish,
but the horses understand our lingo. Ginger, an American expat, and her
Mexican husband Andres have a stable at Cerritos Point. Just hop on any Cerritos
bus heading north to the end of the line. The well kept horses cost about $18
U.S. per hour. The rides are on both trails and on the beach. They are open from
10 a.m. to 4 p.m. every day, except Sunday. Call Ginger at 922-2026.
There is a horse rental place on Stone Island where you can go for long rides
on the secluded beaches. Rental cost is $3 U.S. per half hour. Rancho Las Moras
has horses that can be ridden, and the price is part of the room rental.
Biking: Kelly's Bike Shop is located on Camarón Sábalo, #204 L-10, in the
mini mall next to the Cyber Café, in the
Golden Zone. Service includes bike
rentals, sales and repair. Prices for
mountain bike rentals are $3 U.S. per
hour, $7.50 U.S. per half day, and $15
U.S. per day. They have a three- to four-
hour guided tour in the hills for $25
U.S. Operating hours are from 10 a.m.-
2 p.m. and 4:30-8:00 p.m., Monday
through Saturday. You can contact them
by telephone at 914-1187 or by e-mail,
kellysbike@hotmail.com.
And four wheelers, too
Photo by Tom Tolman
El Cid Golf Course
M a z a t l a n I S P a r a d i s e