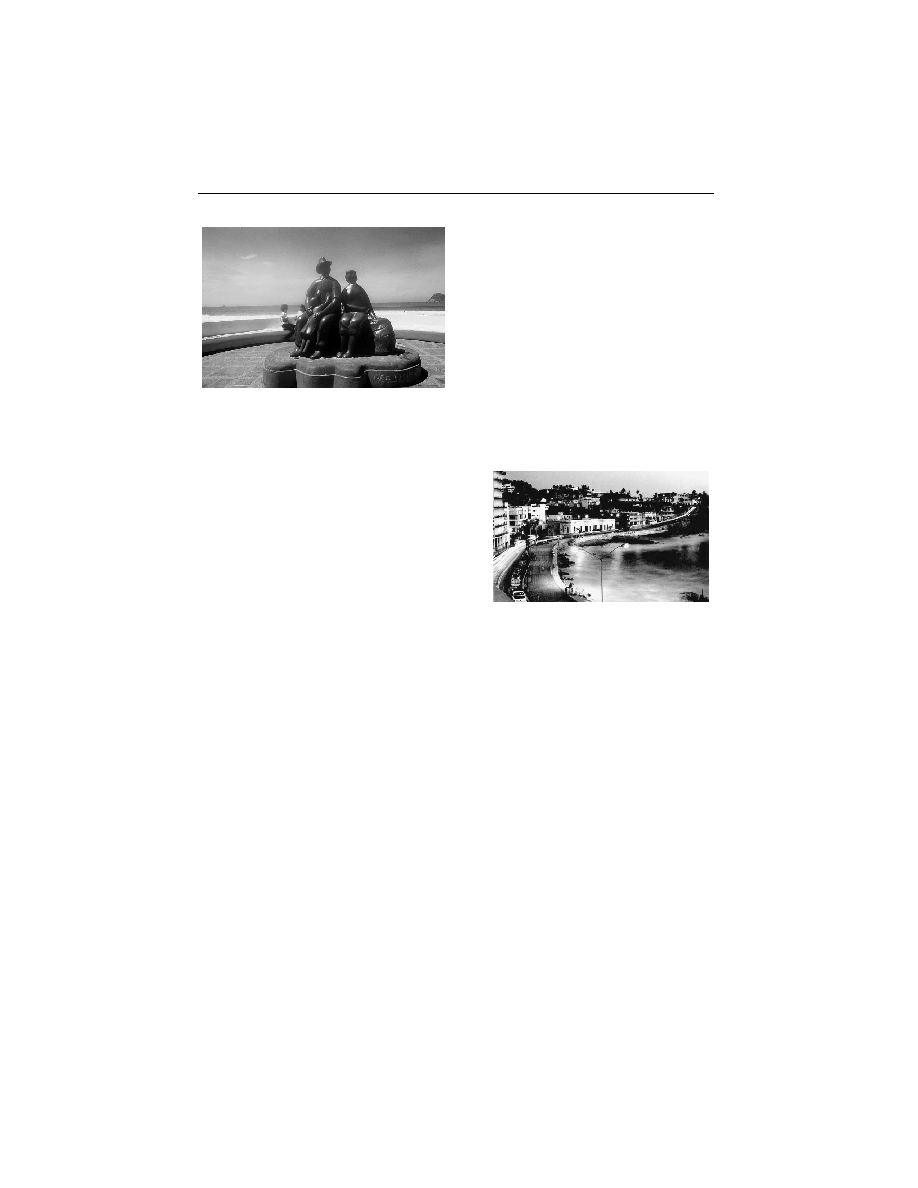 Malecón: This is a beautiful boule-
vard called Avenida Del Mar that runs
from Valentino's south to the
Fisherman's Monument where the
street becomes Paseo Claussen, and
continues on to Olas Altas.
Olas Altas and downtown area: This
is the older section of the city where
tourism began, and is experiencing a
rebirth, which I discussed earlier.
Beaches: The beach or Playa seems
to go on forever. There are, however, a
few breaks in the beach. I'll describe the
beaches going from north to south:
Playa Delfin: The northern-most beach
is relatively isolated except for the Pueblo
Bonito, Emerald Bay Hotel complex. To get
there, take Sábalo Cerritos road to the
Highway 15 bypass. Turn north just before
you reach the railroad tracks. Very few
people go there, so you'll have a lot of pri-
vacy. The down side is that once you pass
Pueblo Bonito the road is dirt, dusty and rutted. The bus does not go to Playa
Delfin.
Playa Cerritos: It is at the end of the line for bus transportation. There are
a couple of nice cafés there and Ginger's bilingual horses. During the week,
tourists go there to explore, while on the weekend locals use it as a picnic area.
It has a long sandy beach. Playa Bruja is a small beach that is adjacent to Playa
Cerritos.
Playa Escondida: This beach is used primarily by hotel renters and time-
share owners and extends four miles. It starts at the tide pools at Punta Cerritos
and stretches all the way to the mouth of the inlet of Marina Mazatlán. Most
of the beach is excellent for swimming. If you want to watch the more daring
surfers, head up to the north end.
Playa Camarón Sábalo and Playa Gaviotas: This is where the action is for
most tourists. It extends from south of the Marina Mazatlán or El Cid Marina
Hotel, all the way south to Valentino's. The vast majority of the beaches are
okay for swimming, but some stretches are a little better. This is the area where
I take my daily walks and do most of my people watching.
Olas Altas Beach
Photo by Ramgopal Mettu
Family Monument near
Valentino's,
Photo by Tom Tolman
M a z a t l a n I S P a r a d i s e