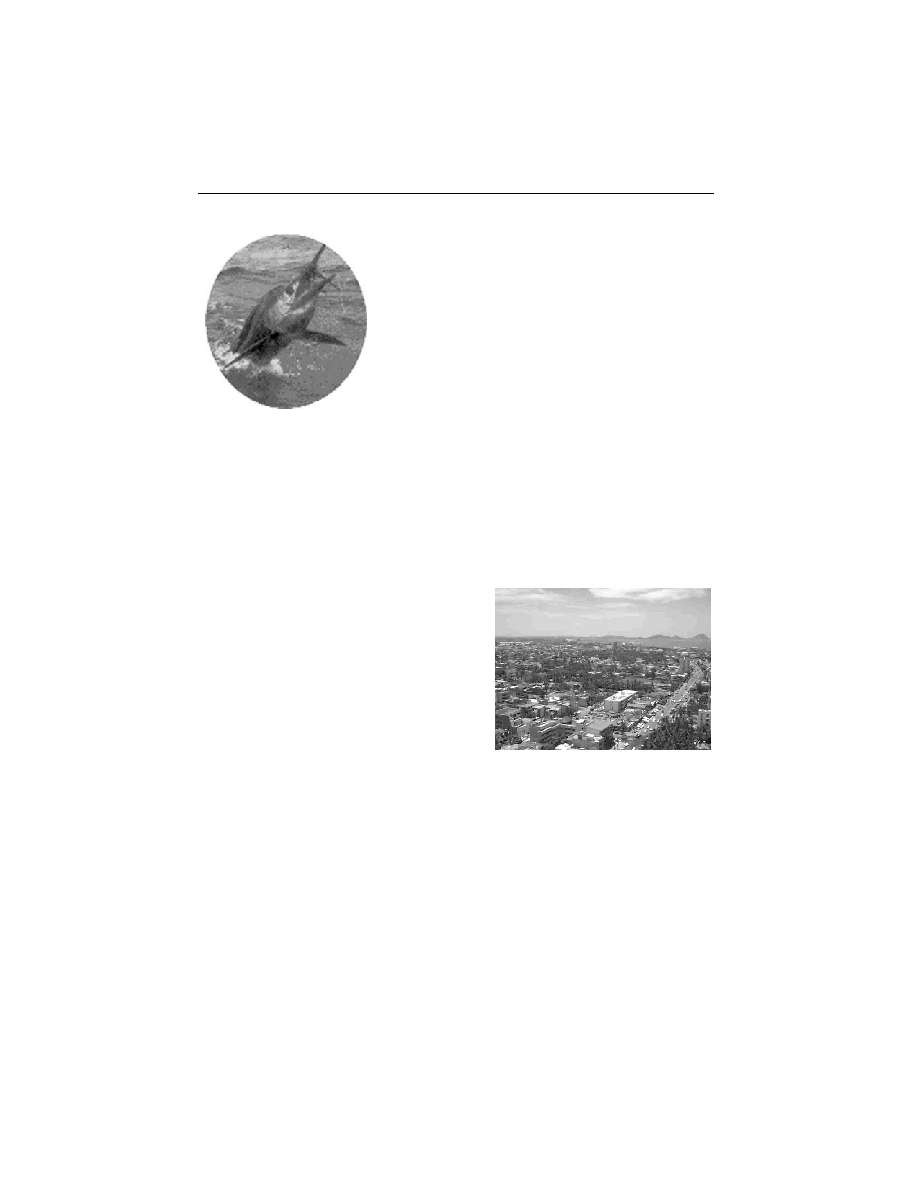 Fishing: Mazatlán was famous for its great
sport fishing long before it became a major tourist
attraction. There are a large number of charter
boats that take aboard about 9,000 sailfish and
marlin annually. There are charter bottom fishing
boats as well as fishing from the beach. There are
countless lakes nearby that produce excellent bass
fishing.
The City: Mazatlán has more than 12 miles of
wide sandy beaches that seem to go on forever. A
picturesque Malecón (an oceanfront promenade) is a center for Mazatlecos and
tourists alike for walking, exercising and people watching.
Unique to other tourist cities along the coasts of Mexico, Mazatlán is a com-
mercial city. No question, it has the mega-resorts in the Golden Zone, but
there are not the big housing areas occupied permanently by expatriates, like
in Guadalajara. I live on a block in which I am the only foreign citizen. I have
Canadian and U.S. friends who live in almost all areas of the city. Most of them
have integrated into their Mexican communities with few problems.
The downtown area of Mazatlán is only
a short bus ride from the tourist zone, and
completely different from the resort areas.
It has a bustling central market where
shopping daily for fresh food is a way of life
carried over from the days prior to refriger-
ation. The "Old Town" and Olas Altas areas
have been rejuvenated the past few years
and the number of artists-in-residence has
increased. The Plazuela Machado, four
short blocks from the central market, has
sidewalk cafés where one can sit quietly in the shade enjoying a local beer or
soft drink while watching the senior citizens on the park benches talk while the
children laugh and chase each other around the gazebo.
View of Mazatlan city
M a z a t l a n I S P a r a d i s e