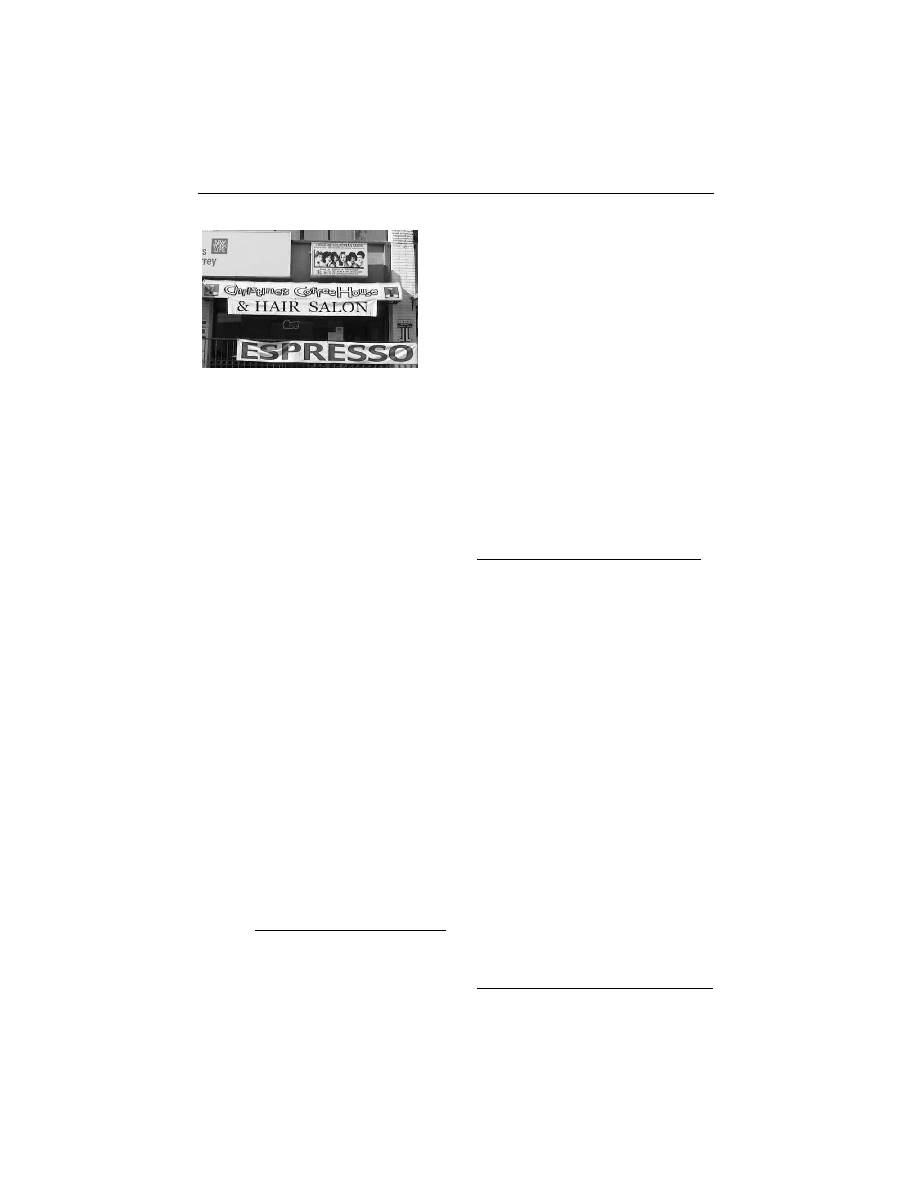 Christine's Coffee Shop and European
Hair Salon: I spent years trying to find a
place that I would have the confidence to
get a haircut that didn't make me look like
"Moe" from the Three Stooges. I finally
found it last year at Christine's. The owner
is a Brit, who is bilingual and teaches all her
employees how to cut hair. My wife is just as happy with the results of her vis-
its there. Christine has a complete beauty shop that includes Facial/Massage,
Manicure and Pedicure. In the front of the shop is an Espresso bar that has
both hot and cold drinks, with pies, cakes, cookies and other pastries.
For your convenience, she has two computers that are hooked up to the
Internet. Check your Email for $.25 U.S. per minute, and you can hook up
your laptop and use their Internet for $2 U.S. per hour.
There are so many things to do at Christine's that I didn't know where to
place her in the book. I chose here, primarily due to the difficulty of finding a
good barber. For more information check http://www.maztravel.com/chris/.
Framing of photos and pictures: For a beautiful job at excellent prices, try
Marcos y Molduras, El Pinito at Cinco de Mayo # 1517. It is easy to find, as it is
right behind the City Hall--Palacio Municipal--in El Centro. They have many
samples and can do a job overnight. I had them frame six paintings, four pic-
tures and a mirror, and the job was completed in three days. Telephone them at
982-5643.
Another good frame shop is Todo en Marco, which is located on Calle
Bugamvilias--just east of Play Mazatlán Hotel. Their telephone number is
916-5281
Langdon Gallery: Cards, prints and oil paintings of Mazatlán can be found
at Langdon Gallery at Angel Flores #313 in the Historico district. A prodigy at
Chicago Art Institute, Dick Langdon started coming to Mazatlán in 1996 and
died in the spring of 2004. In my humble opinion he was one of the finest
painters in Mazatlán. He had the ability to put the sights of Mazatlán on can-
vas with beauty and character. If you like Mazatlán you'll love his pictures. We
have four of his works hanging in our living room. Stella Bell tells me that she
still has many of his pieces for sale at the gallery. She will also be exhibiting
other artists. Gallery hours are from 10 a.m. to 2 p.m. daily, and you can email
Stella at langdonstudios@yahoo.com.
The New Old Mazatlan: Dennis Slack does wonderful cards, prints and artwork.
His studio is located in El Centro, at Angél Flores # 828, across the street from the
main plaza. Phone him at 982-6770 or email thenewoldmzt@mzt.megared.net.mx.
M a z a t l a n I S P a r a d i s e