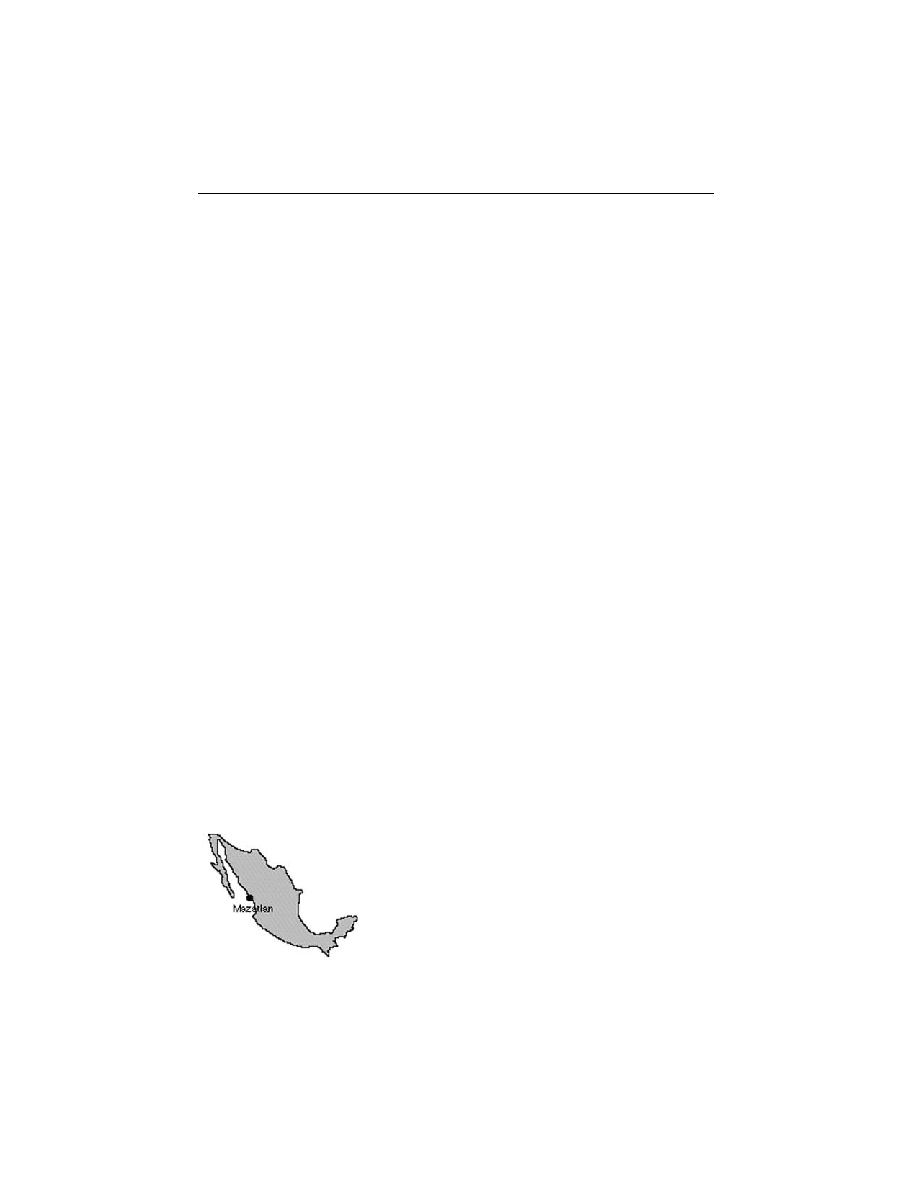 "Snowbirds" winter in Mazatlán. It is usually cool at night, which is ideal for
sleeping, and sunny and balmy during the day. Believe me; waking up every
morning to sunshine does not get boring. While my friends living in the Olas
Altas and downtown areas of Mazatlán sometime complain about mosquitoes,
we, in the Golden Zone, are relatively free of pesky insects.
June starts to get hot (much like the Atlantic Seaboard of the U.S.), and
heavy rains sometimes occur during July through September. The summers
are hot and muggy, but the rains usually hit at night. The beautiful green water
is warm until December, when cooling begins, but swimming is comfortable
year-round. It took me a few years to realize that the western Washington sum-
mer climate of temperatures ranging between the low 70s and mid 80s com-
pares to the best in the United States. This is the climate in Mazatlán during
the "tourist season." I enjoy the best of both worlds--year round!
I must add that climate is a matter of acclimation, too. Every morning at
6:00 a.m., I jog on the Malecón in tee shirt and shorts while the Mexican
nationals dressed in heavy jogging suits and light jackets watch me in wonder-
ment. I also realize that many people like hot weather and if that is what you're
looking for, Mazatlán in the summer is the place for you.
I heard a great story about an incident during the hurricane season, which
is from July to October. It seems there was a big hurricane in the 1980s that
caused a lot of damage and flooding. The flooding was so bad that some cat-
tle were washed out to sea. The Alejandra Coppel family owned a sardine fleet,
and like many locals, headed out fishing right away because the flooding wash-
es food out into the ocean and the fish come in to eat.
The family threw out their nets at night and the nets became so heavy that
the boat tipped to one side. They thought they really had a lot of fish and were
mentally counting the pesos as the nets were raised. To their surprise, the nets
contained live cows. The cows were probably tired of treading water, and glad
to be netted. The fishermen couldn't throw the beef-on-the-hoof back, so they
left them grazing on the decks. They returned to port and emptied their cargo
so they could return for some "serious fishing."
Location: Found on the west coast of Mexico, due
east of the tip of the Baja Peninsula, Mazatlán is eas-
ily accessible by air, land and sea. Among the resort
cities of the "Mexican Riviera," Mazatlán is the closest
to cities in the western U.S. and Canada. Modern,
high-speed, air-conditioned buses run from the bor-
der at Nogales to Mazatlán, 720 miles away. The trip
M a z a t l a n I S P a r a d i s e